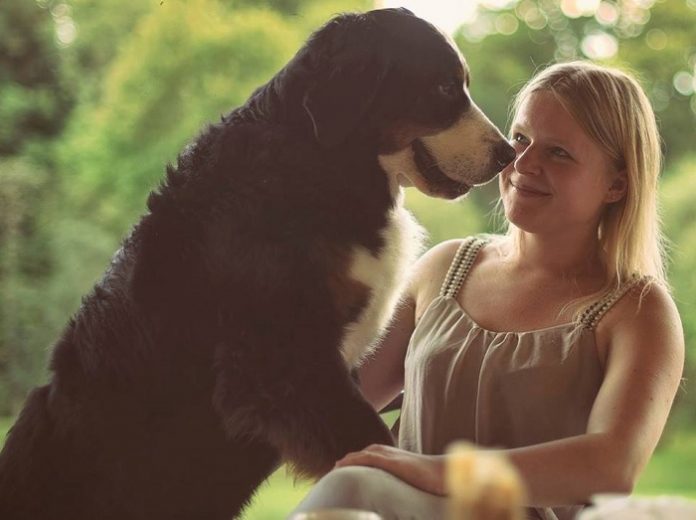 The Bernese Mountain dog is one of the four breeds of Sennenhund-type dogs from the Swiss Alps. This dog is specialized to herd cattle, be a watchdog and of course, loyal companion. We have asked Mrs. Vilte Liaugminaite from Lithuania, professional breeder of this remarkable dogs for an interview.
Good day, Mrs. Liaugminaite, could you please introduce yourself to our readers?
Mrs. Liaugminaite : Good day to you as well. I would like to thank you for the interview invitation. My name is Vilte Liaugmianite from Lithuania and I'm the owner of the Bernese Mountain Dogs kennel "Amžina Euforija".
Please tell us, since when did you start your interest in this breed and how did you start breeding this wonderful dogs?
Mrs. Liaugminaite : Yes, I remember my first meeting with this breed very well. It was in 2002 in Latvia. I was on winter vacation together with my family in some resort and I saw this beautiful tri-color bear jumping thru the snow. That was very beautiful male, four-months old Bernese Mountain Dog and I realized that I need this dog in my life. In this moment, we already have a French Bulldog at home and my family considered him for a family member, but large-sized dog as Bernese Mountain Dog was just not suitable for our house.
In 2010, our French Bulldog passed away and I must confess that it was quite gloomy atmosphere at home, because we were not used to live without a dog so, we have decided to visit some kennels in search for our next dog. We went to see different dog breeds, but when we visited the Bernese Mountain Dog's kennel "Kalnu Talismanas", we fell in love with this breed. When we saw the puppies, my father, who was against the idea to get a Bernese Mountain Dog, or even to visit a kennel for this breed, said that we just need to have this dog. So, this is how we get our first dog – Frodas Kalnu Talismanas. Unfortunately, he left us after 2 years, because of a kidney failure.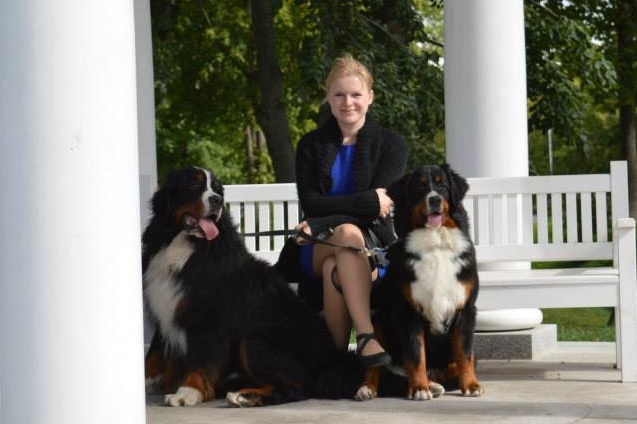 Another Bernese Mountain Dog – Uno Ciurliu Kamane, is still with us. He is 5 years old now but, his story wasn't a fairy tale as well. When we first started attending dog shows with our dog Frodas, we were looking for a show class dog. Uno was perfect when we got him, but when he was only 9 months, his bite changed I to underbite (which is serious disqualifying failure) and we neutered him.
Why am I telling you all this? Because this happening forced me to think about breeding and I started to read a lot about the genetics and the breeding types, Bernese Mountain Dog's purpose, exterior and temperament. In 2014, we got wonderful female puppy Ebony Alpejski Sen from Poland. When we were choosing the puppies, I was studying pedigrees a lot and when her breeder, Agata Zawadzka, told me that her priority are long living dogs, I decided that I need that dog. Despite of being very healthy dog, Ebony is amazing show class female, and at this moment she is a candidate to InterChampion (Lithuania, Latvia, Estonia, Baltic, Russia Junior Champion).
After a couple of years we decided to get another female Bernese, this time from the kennel Von Romanshof owned by breeder Beata Pluta. I really like her dogs and her work, because she prepares her dogs for water rescue. My female Dress to Impress Von Romashof's parents are working dogs and she has a very high temper and enjoys working with me- no matter is it dog show preparation or obedience training. We also have one boy from our first litter – Areon Sport Lux Amžina Euforija, he is 11 months now. Our dogs are our family members and they live inside our house, we think that 4 dogs are enough and we are doing our best to ensure that they will have high quality life.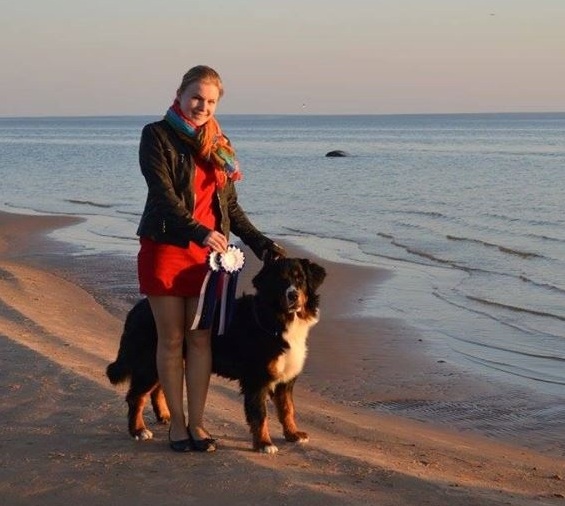 Amazing story… Could you please tell us about Bernese Mountain Dogs?
Mrs. Liaugminaite : I would call this dog breed an exception. Different from other breeds, Bernese Mountain Dogs can be whatever their owner wants them to be. If they live with older people, they will enjoy laying on the couch. If their owners are active, this dogs will be happy to live active social life. They can be wonderful family dogs and best friends to the kids and the most important thing is that they get along with other animals. But, we should not forget – Bernese Mountain Dog is a large-sized canine and while growing it is not recommended to put them in serious physical activities. My advise would be to slowly increase physical preparation level, just to avoid too much load on the joints.
Did you go on a dog shows with your dogs?
Mrs. Liaugminaite : I am a dog show person and that's why my dogs have started their career since their "childhood". I think that it is very important to "grow champions". They have to be used to a dog show routine, waiting for long time before entering the ring, being together with other people and dogs, with many sounds and smells around. But, I consider every dog show as a practice for me and my dogs, because every time when we participate, we are improving ourselves.
Very good. Please tell us which dog show will you always remember and why?
Mrs. Liaugminaite : The most memorable dog show for me was held in Sakiai, Lithuania
where my boy Aeron Sort Lux Amžina Euforija won the Best Baby in Show 1st place, in his first show ever. I was so full of emotions, it really is a dream-come-true for every breeder. He did repeat this success in The Swiss Mountain Dogs Club Show in Latvia in 2017, but the first time when my boy won the Best Baby in Show is really unforgettable.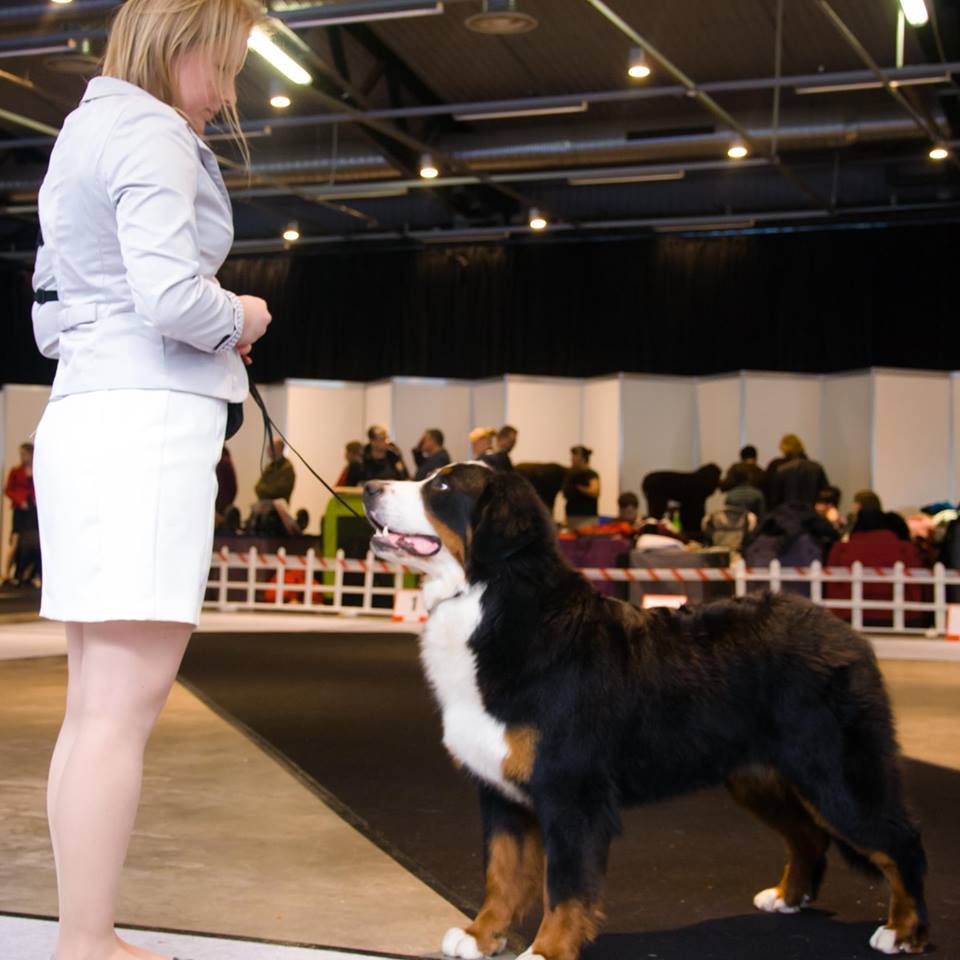 Why would you recommend Bernese Mountain Dog to our readers?
Mrs. Liaugminaite : Bernese Mountain Dogs are not only dogs, when you live with them – you can feel that they really have a very big heart. I recommend this breed to everyone who is not afraid of hair (because, yes… they do shed) and want to have a best friend forever (because that is what they are).
Thank you Mrs. Liaugminainte for the details, we enjoyed this interview and we would like to wish you good luck on the upcoming dog shows for you as a breeder and for your dogs as well.