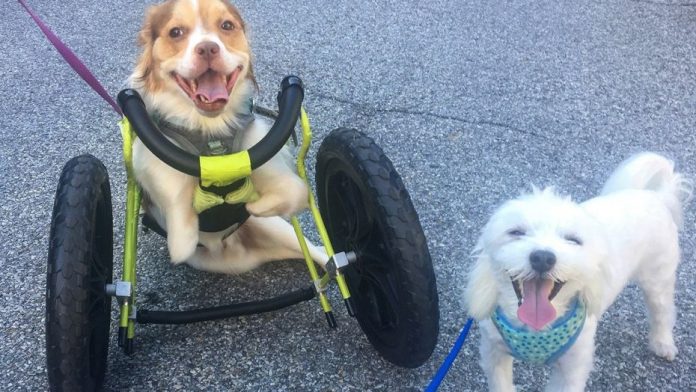 A disabled dog born without its front legs has been fitted with a set of shiny new wheels after being rescued from a horror hoarding situation.
Loki, 3, who was born without limbs because of close breeding, was one of 30 animals rescued from the home of a hoarder.The chihuahua/beagle mix was adopted by office manager Katie Orsenigo, 24, and car business owner Ron Petruska, 26, last May.
They brought Loki 1,000 miles from Alabama to their home in New York but soon realized the way he scooted around on his chest was hurting his back.
Loki's vet advised the engaged couple to get the pup fitted for an animal wheelchair, so he could walk and run without causing long-term damage to his spine.Loki fell in love with his wheels and now counts down the hours until he can hit the road with the couple's other dog Marley, a 6-year-old Havanese.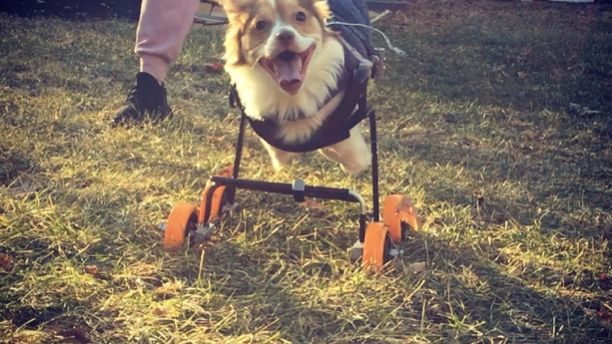 Orsenigo, of Mahopac, said Loki makes everyone smile and is the happiest animal despite everything he's been through.
She said she fell in love with Loki after seeing his picture and reading his sad story on Petfinder.
"He looked so happy in spite of everything," she said. "My fiancé and I were thrilled when they told us we could adopt him. Even though he seemed happy just scooting around on his chest, our vet said it would really hurt his back in the future if he kept doing it, so we started the motions of getting him a new wheelchair."
"It was really hard at first – he kept tripping over it and falling on his neck," she said. "But we've made some adjustments now and it works really well. It's great because he definitely associates his wheels as being a happy thing."
Orsenigo said Loki's wheels attract a lot of positive attention when she is out and about with her pooch.
Loki has even inspired the 24-year-old to found her own organization From Hope to Home, a network of animal foster parents who help dogs in need.
"It's like Beyonce is on the street, people stop me and ask me questions about him, they just can't resist his big smile," she said. "He's so cute, people can't really resist him. Even though my other dog Marley is really grumpy, they have become friends. Even Marley can't resist Loki's positive attitude."