All of us have probably been at cemetery at least one time in their life. But, not all of us have heard about "Cimetiere des Chiens" in Paris. With marble tombstones and gloomy atmosphere, there is not much difference between this and any other burial site, except that this cemetery is the eternal resting place for more than 40.000 pets.
Founded in 1899, this cemetery was opened as a reaction to the French law that stated that all the pets that passed away cannot be just thrown as a rubbish or dispose in the Seine, because of increased risk of spreading diseases.
It is called "Cimetiere des Chiens" – cemetery for dogs, but it is not limited to canine burials only. There are cats, sheep, rabbits, birds, lion, horse, hamsters and even fish buried there. There is an entire section reserved for police dogs, and it is the forever home of one of the Hollywood most famous acting dog, Rin Tin Tin.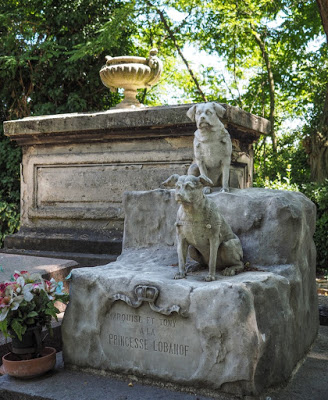 Since the cemetery was opened until today, there are more than 40.000 pets buried there. Rin Tin Tin was adopted from a World War I battlefield by an American soldier and besides the fact he spent most of his life in Hollywood, when he passed away in 1932 he was brought back to France and was buried here.
The tombstones range from simple markers to shrines which tell about the  relationships between the owners and their pets. But, on the other hand, some of the tombstones are so extravagant that definitely say more about the owner than they do about the pets that have been buried there. Some of the earlier tombs, when the labor was cheap, are impressive carved statues like those of Marquise and Tony, dogs that belonged to the Russian Princess Lobanof.
There is a monument of the most famous St. Bernard Dog in the world – Barry, a search and rescue dog from the Hospice du Grand St-Bernard in the Alps. The child that Barry is carrying on his back, as shown on the statue is the 41st person that he saved. After he carried him to safety, Barry died from exhaustion.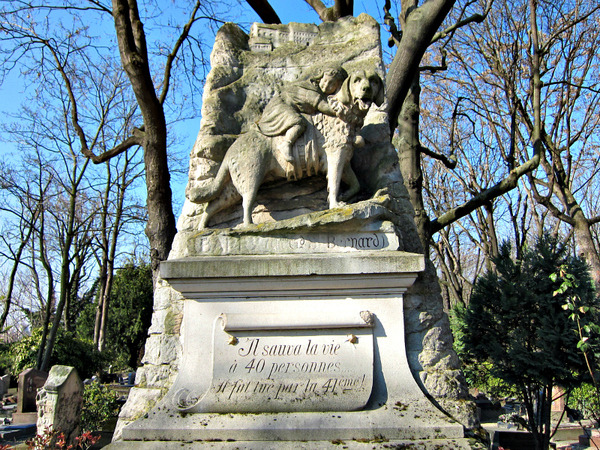 In February 2012, French authorities were investigating the theft of a diamond-studded collar worth 11.700$ from a grave in the cemetery. The grave of a dog that was buried with a diamond collar was desecrated on the night between February 4th and 5th. A wealthy American industrialist's wife buried her beloved dog Tipsy with the diamond collar in 2003. For years the myth of the diamond collar was circulated in the town, but after the theft occur, the police confirmed that it was not an urban legend after all.