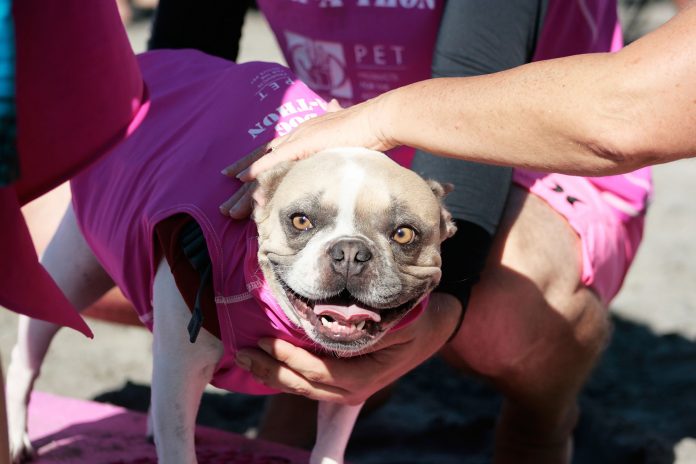 In French, the name Cherie means "dear one" or "darling." For Cherie Nykolayko, a blue-fawn pied French Bulldog, the name couldn't be more perfect. That's because the fund raising, surfing Frenchie captures waves and hearts all along the beach whenever she mounts her bubblegum-pink surfboard.
Dan and Amy Nykolayko are the proud parents who welcomed Cherie into their family in 2012. Dan remembered: "That's when we lucked out and brought her into our crazy little home." He said Cherie came to them through the French Bulldog Rescue Network. Cherie was born in Texas and from what we understand her family bought two French Bulldogs and they couldn't handle it. They struggled with whether or not they were going to sell her on Craigslist or give her to the rescue" – Dan explained.
Amy added : "We can't imagine what would have happened to Cherie if she would've been put on Craigslist. We don't even want to think about that."
Ultimately, the rescue convinced the family to give Cherie up and she moved to California. Amy and Dan adopted her, and they all live together in Newport Beach with their other French Bulldog, Ace. As for how Cherie began to surf, Dan said: "We used to take Ace to the beach for French Bulldog meet-ups, and he would just run up and down the beach and play with friends."
Amy wasn't sure how Cherie would react because she had never been to the beach.
However, as soon as Cherie went off-leash, Amy said: "She took off like a shot and bolted right into the ocean and started playing with all of the big dogs. She didn't have a life vest on or anything."
Soon after that, Cherie was fitted for her own life vest.
Dan said it became the running joke of the meet-up group because Cherie would always be sprinting up and down the sand in her life vest.
Cherie began surfing lessons when a friend passed along a flayer that advertised them for dogs.
Dan clarified: "The surf lessons are put on by the Helen Woodward Animal Center. They bring in a group called the So Cal Surf Dogs. They teach you how to 'surf your dog' because it's not like they're teaching your dog how to surf, it's teaching you how to teach your dog how to surf."
For Cherie, that one lesson turned into three years of surfing.
When asked if Cherie knows when it's time to go hit the waves, both Amy and Dan laughed in unison: "Yes!"
"She sees her bag of stuff sitting on the chair. She knows her life jacket, and she knows we're going on a journey," Amy explained. Dan continued: "There is a lot of movement early in the morning, and daddy has to strap her surfboard to the car."
What about Ace? Amy answered: "He wants nothing to do with the water whatsoever and can't run away from it fast enough. He's more of a land shark. He likes the sand. We call him 'grandpa.' He's his own dude." She also said that neither she nor her husband are surfers. Dan originally hails from Chicago, Ill., and he is the one who hits the waves with Cherie. Amy grew up in Fullerton, Calif., and serves as the photographer and stays on land most of the time, but will go out into the water to help when needed. She calls Cherie "pretty special" because she just loves the water.
"Most of the Frenchies we've ever seen at the beach want nothing at all to do with the water," Amy noted.
Dan interjected: "But then, you get a couple of oddballs." He said: "The majority of French Bulldogs are just not interested. Frenchies are top heavy and not exactly designed to be swimmers."
When he and Cherie are in the water, he said: "One thing about dog surfing, it's not like you just plop them on a board and let them figure out what they're supposed to do. We'll sit and wait for a good wave to come. If I think it looks good and she's going to get a nice smooth ride, I give her a nice little push and off she goes."
Dan explained that when the dogs are surfing, "It's safety first" and there are many volunteers out there with them.
"There are a bunch of lifeguards and friends all in the water. Say there are six dogs surfing in a heat; there might be 18 people in the water," he said.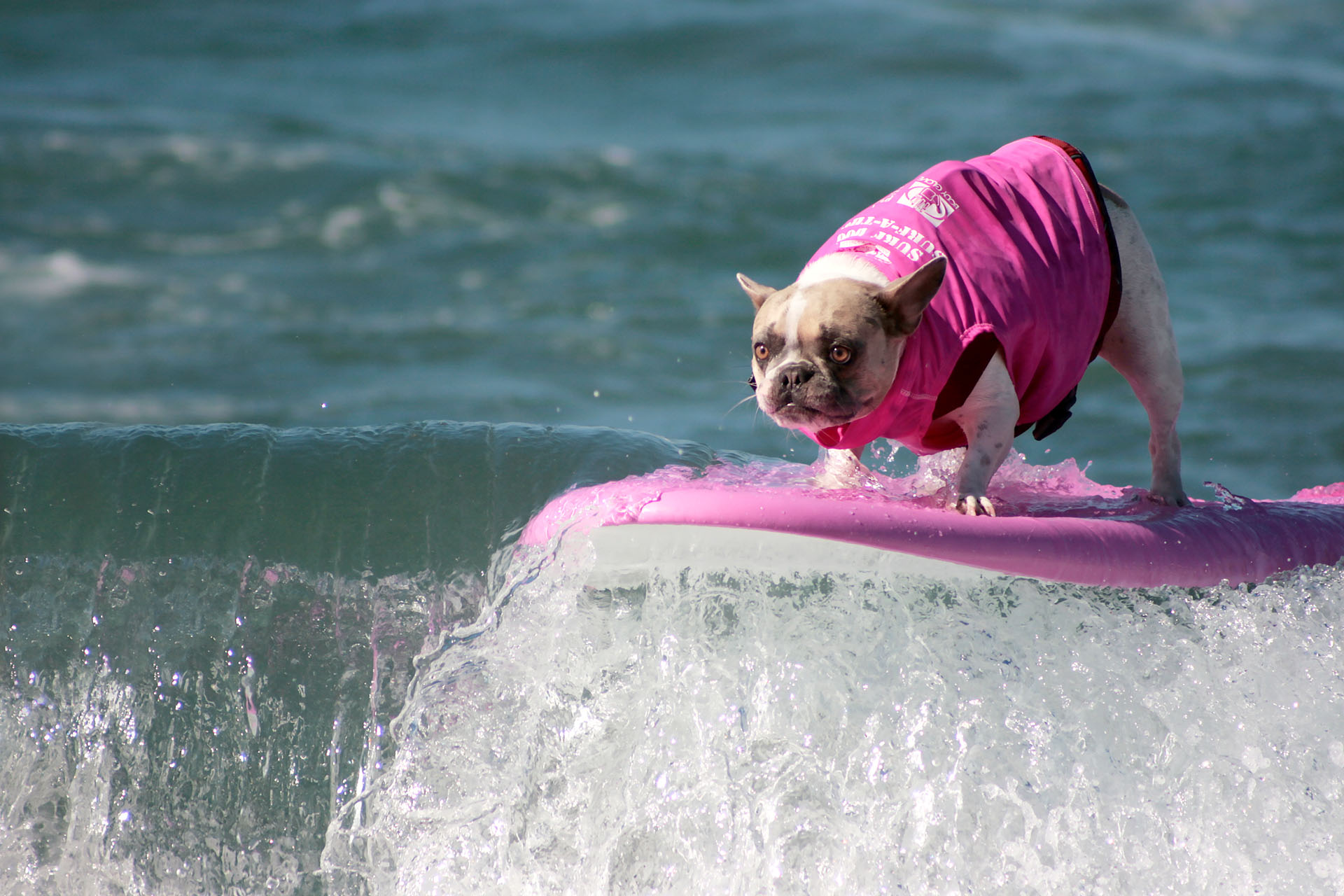 If Cherie falls off her board, she'll doggie paddle until someone can get over to her and grab her.
"She is small, and we want to make sure that she doesn't wear herself out. If she isn't having fun, then we're not having fun. The second she is stressed out, we go in. If the waves are too large or we don't think it's safe for her, we just don't go in [the water]," Dan said. So far this year, the four-legged surfer has surfed in three competitions. Dan estimates that at the competitions, approximately 50 to 60 dogs participate. The 10-minute heats are broken down by size, ranging from small to extra-large, with four to six dogs going out at a time.
The dogs are judged by how many waves they catch, the style and length of ride, and if they make it all the way to shore.
Amy laughed: "Cherie always seems to stand out with her pink surfboard."
Some dogs can do style tricks, like doing a 180 on their board. While Cherie isn't much of a trickster out on the water, she uses her build to her advantage to avoid wiping out.
"She is just really good because she has that low center of gravity that Bulldogs have and she can get down really low on her board," Dan said.
In May, Cherie competed in the Purina Incredible Dog Challenge in Huntington Beach and came in fifth. In early August, she took part in the Unleashed by Petco Surf Dog Competition in Imperial Beach and placed third in the medium dog category.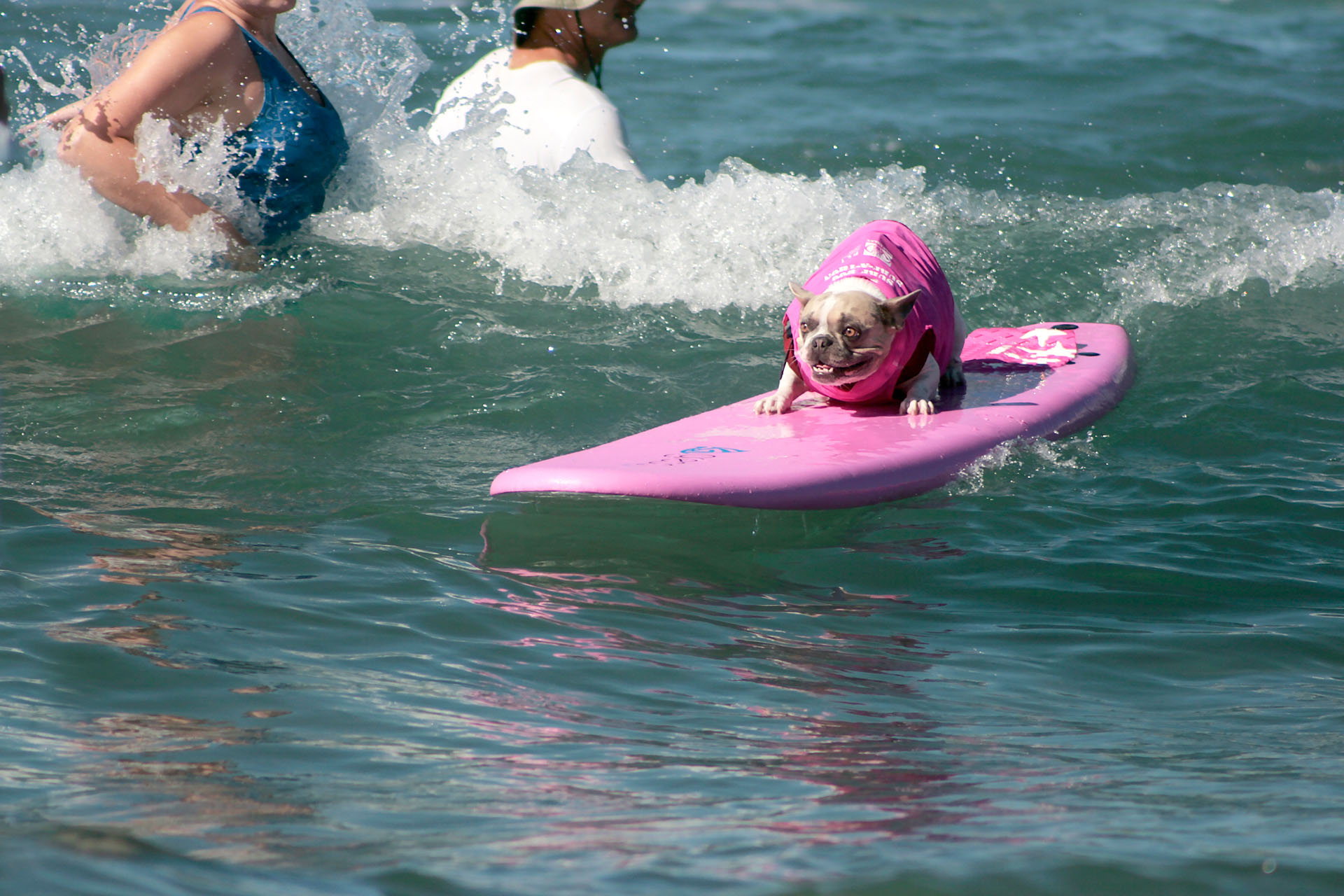 At the 10th Annual Surf Dog-Surf-a-Thon that was held on Sept. 13, Cherie took first place in the medium-dog category and placed third overall.
Aside from surfing, the Nykolaykos fund raise for both the Helen Woodward Animal Center and the French Bulldog Rescue Network.
Dan said: "It's really important to us to give back to the French Bulldog Rescue Network because they allowed Cherie to come in to our lives."
Amy agreed and added: "We are very fortunate to have Cherie. We are so lucky, and we want to pay it forward and have fun doing it too."
The Nykolaykos raise funds by selling Cherie-themed merchandise. At the 2014 Surf Dog Surf-a-Thon, Cherie was the top fund raiser for the Helen Woodward Animal Center. This year, she raised $1,425 and placed third in fund raising. An additional $1,110 was raised for the French Bulldog Rescue Network.
Dan said whenever they go into an event, it's from the perspective of just going out and having fun. Amy knows Cherie does her best, has a great time, and whatever happens, happens. Of surfing with Cherie, Dan said: "The whole hobby is a really cool bonding experience. I want to say that our relationship has strengthened a lot over the past three years. I was always partial to Ace, especially that very first year. But now, I have a deeper connection with Cherie. It's just the two of us out there.