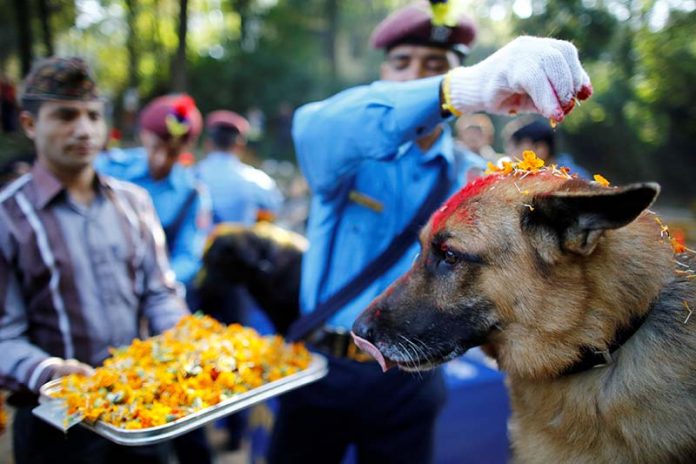 As part of Tihar, the second biggest festival in Nepal and some states of West Bengal, the friendship and relationship between the dogs and the people is being celebrated.
On this day, people are decorating their living rooms and courtyards with colored sand, colored rice and flower petals. This decorations symbolized a sacred welcoming area for the Gods and Goddesses of Hinduism.
The second day of this five-days festival is called Khicha Puja (Dog Tihar), and is celebrate the God-blessed relationship between people and dogs. The people are offering delicious food to the dogs, no matter are they home of street dogs in order to acknowledge their eternal bond between each other.
The dogs have a great importance in the Hinduism and Hinduism mythology. As mentioned in the Mahabharata, Bhairava, the fearsome manifestation of Lord Shiva had a dog as it's companion or mount (in some versions). The God of Death, Yama is known to have two guard dogs that have four eyes each and they watch over the Hindu concept of Hell, Naraka. The common belief among many Hindus is that caring or adopting a dog can also pave way to heaven.